Dear Lily and Cole,
We had quite the experience last Friday. It doesn't mean anything to you now, but someday it will mean a lot. You'll probably tell your children about it. You'd better. In fact, I insist.
Last Friday, your Great Papa (my grandpa, Dr. Jack Rowlett), who is now 91 years old, came to Lily's school's Veteran's Day Assembly. Sweet Nanci, your cousin Jack's wife and Great Papa's main caregiver, drove him up to our house. He had a green notebook in hand. In that green notebook included pictures of him from the war (boy, such a handsome young man he was!), his ration card, important war papers and more. Here are some pics: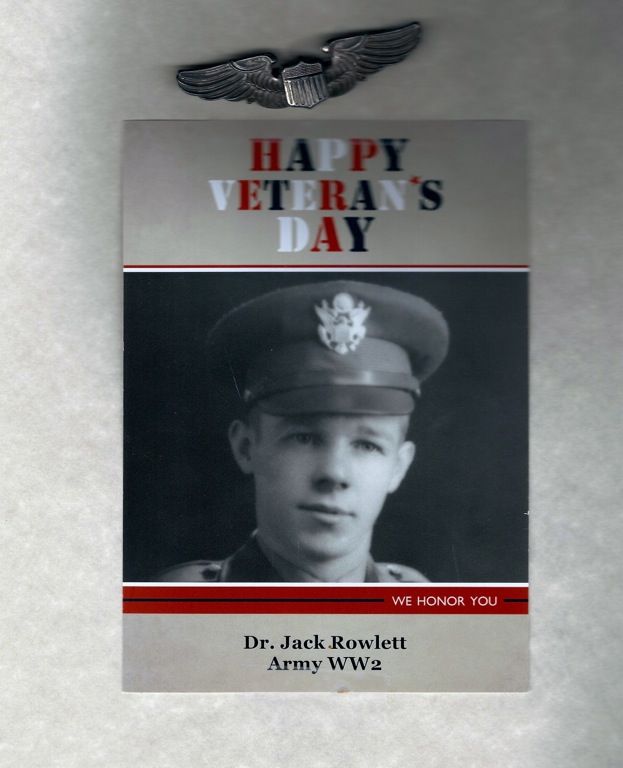 2nd row, dark shirt. He is the one on the slight right (the one without a smile on his face).
Lily and Grandma Janie looking through the green notebook that Nanci and Grandpa created for the assembly.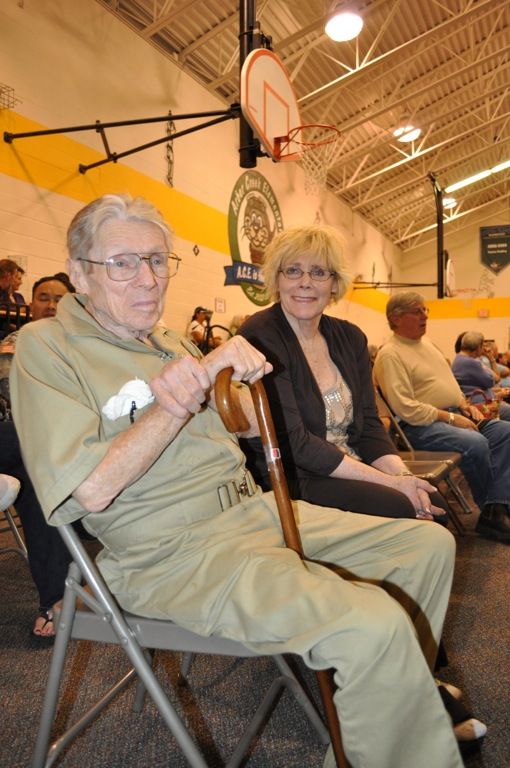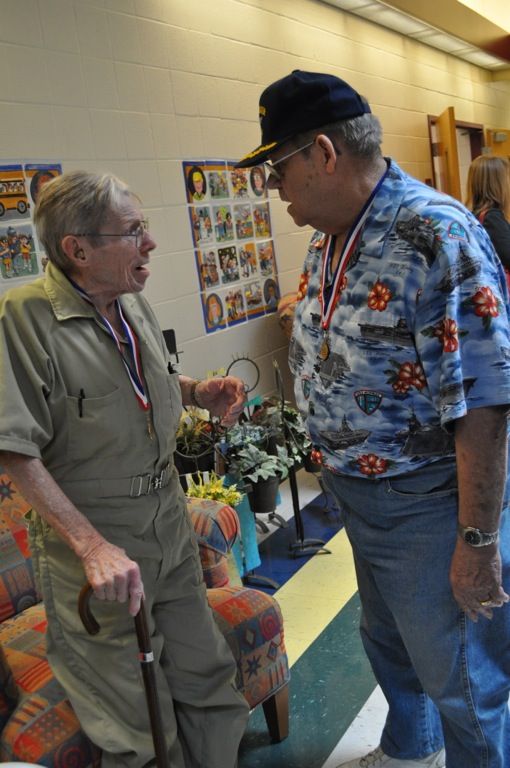 Several Veterans came up to Grandpa after the assembly to thank him. It was very emotional for him.
Today Great Papa is ok. Living ninety-one years in the same body…well, he isn't what he used to be. Dr. Jack Rowlett practiced medicine (family practice) Paola, KS for 47 years. For most of this time, he was only one of two doctors in town. He has delivered hundreds of babies, and has performed countless surgeries. He is incredibly well respected and sort of a "celebrity" in this small town. And in his old age, this tough "class clown" man, who sings inappropriate songs from war days and keeps people in stitches so easily, has become a big giant softie who cries easily. He is still quick witted and sharp, and his old age has just made him a little less aware of his surroundings. Yet we are still very much aware of him. Of his larger-than-life existence. Of his critical importance in our upbringing, and therefore his continued influence on our daily lives.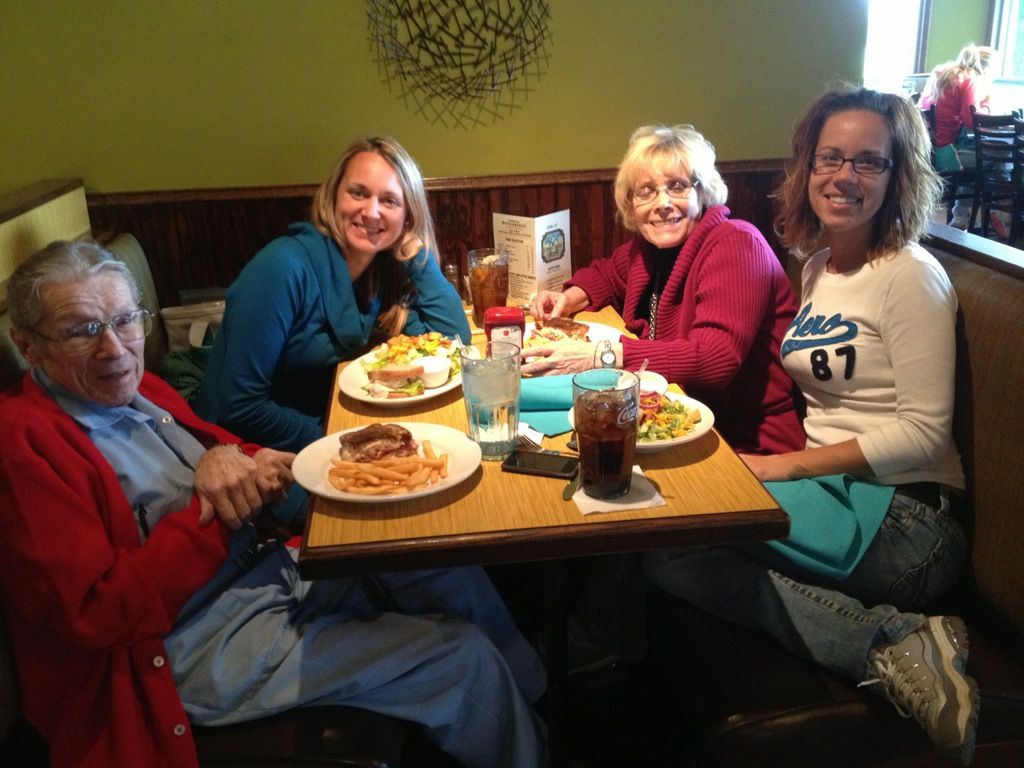 I feel so blessed for all of the trips that Grandpa and Nanci take to "the city." We get to grab lunch and chat.
Grandpa's 90th birthday party at his house. Most of the family, but we miss Sadie, Amelia and Crayton.
Yet this Veteran's Day, the focus was not on how influential he has been in our lives, but rather on his dedication to America and his heroism shown in World War II.
We had no idea what to expect. We heard it was a Veteran's Day Assembly and that Lily could invite a Veteran. I called Grandpa to ask and he seemed excited. We thought it would be a boring assembly. Quite the contrary. Two hours, many tears from all of us (except the kids, who really were bored) and a medal around Grandpa's neck, the assembly turned out to be a day I'll never forget.
Grandpa was too weak to stand in the long line of the Veterans and their sweet elementary school relatives. A thoughtful employee asked if Grandpa could somehow still introduce himself, as it was obvious there were very few World War II Vets there (turns out there were 3). Grandpa was the very last Vet to be "introduced." Grandma Janie was going to introduce him from our seats, but when we realized the microphone had a wire and couldn't reach to the back of the audience. Mom has a broken foot and is using a walker, so she couldn't just run up to the front. I ended up introducing him (which is a shame because mom would have been great telling his story with date facts, etc.). I simply said "Lily Unruh, kindergartener, has brought her great papa here today. Dr. Jack Rowlett served in World War II." Man – there were SO many things I wish I would have said like:
we are so honored he is here

he is 91 years old

he served as a pilot
Yet I was pretty proud of myself because I made it through this announcement without crying. Who knew I would be a sobbing mess about 45 seconds after his introduction. Here is why:
As I was handing the microphone back over to the principal, the crowd of 700 erupted in applause. I suppose it was a combination of Grandpa being the last one, but I believe it was also because he was a World War II Vet. I lock eyes with my barely standing, supported by a cane Grandpa…and he is sobbing. He was so touched by the applause given to him. And this overwhelming sense of pride came over me. I am proud of Grandpa. For his heroism in the War, for taking care of his patients for almost half of a century, for being a dedicated family man. But what really struck me in that moment was my pride for a simple thing – I was so proud that he was there with us on that day, in that school auditorium.
Lily and Cole – our time left with Great Papa might be dwindling. Even if you don't remember this assembly, I want you to know that he showed up. He has a terrible back and a lot of pain in his legs. He was weak that day. But he came. For you. You two – my little darlings – are lucky sons of bitches for having him as your Great Papa.
I just love this picture of Grandpa and Cole.
And then here too - Cole is so much bigger but still sitting in his lap.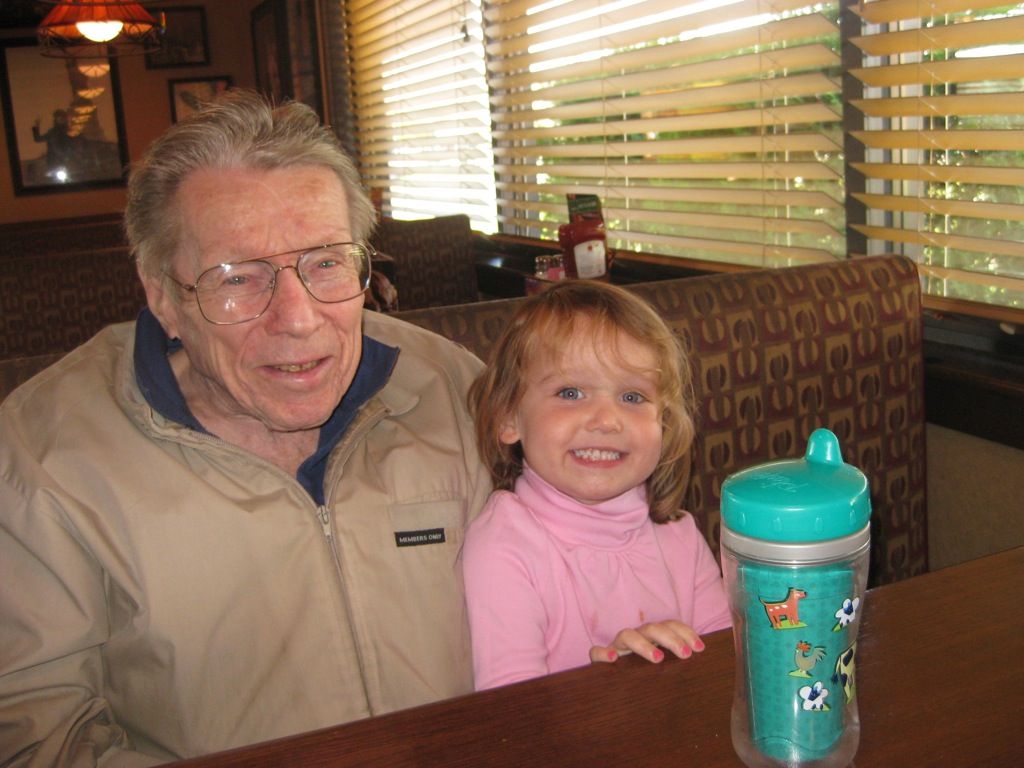 During our "Applebees days" when kids, mom and I would head to Paola to pick up Grandpa and he would take us out to lunch.