We are back from our heavenly vacation in San Diego. So beautiful. So relaxing. We missed the kids terribly, but they were happy as clams at their cousins.
We transferred back to reality at mach speed.
I was so happy to get back to this goofball.
And this sweet little angel.
As we speak, I am throwing Lily and Cole's Keen shoes in the freezer. I just squirted lemons on them. Then I'm putting them in a freezer bag and into the freezer...hoping this will make the sweaty smell go away. Just talked to Nordstrom on the phone and this is what they said to do. I'll let you know how it turns out. And if others have tried and true tricks, I'd love to know what works.
Update to this: it did NOT work. The lemon juice and freezer helped slightly, but the gross feet smell was still there. Still curious as to what works. ;-(
I heart Pinterest. I also heart butter mints. Have you ever made homemade butter mints? I hadn't. Yet now I highly recommend doing this. Kids loved helping too.
So easy. And highly addictive. Use food coloring and serve at a baby shower.
http://www.graspingforobjectivity.com/recipes/soft-butter-mints
Another great project we tried from Pinterest is this headband made from old t-shirts. I actually made a bracelet out of a weathered purple t-shirt that had a hole in it. And now that I know how to do a 5 strand braid, I am constantly trying to find things around the house that I can braid. It is SO easy.
http://www.makeit-loveit.com/2011/06/repurposing-tshirts-into-5-strand-braided-headbands.html
My darling sweet friends gave me this coffee cup for my birthday (from Anthropologie) and I am a little bit obsessive about it. It MUST be clean every morning for my coffee. I feel pretty chic drinking from it, especially because I am a new coffee drinker, but also because I've never had a coffee cup other than a plain white boring thing. Thanks friends - you know me so so well.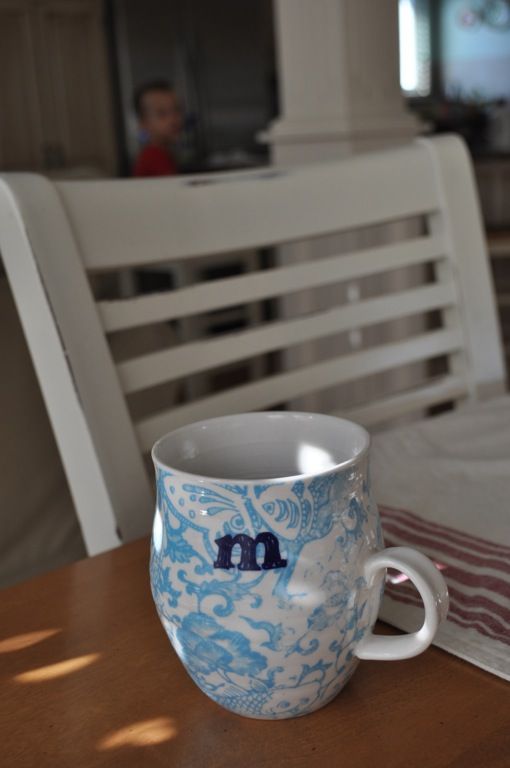 Have a great weekend!